Oneota Slopes is about 140 acres of woods, pasture, christmas trees, prairie, hayfield, garden, farmstead, and just plain room to roam. We are nestled along the banks of the wild and scenic Upper Iowa River, about 8 miles northeast of Decorah, in the "Driftless Area" of northeastern Iowa.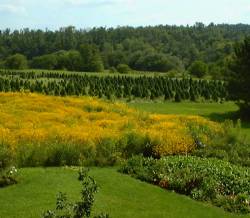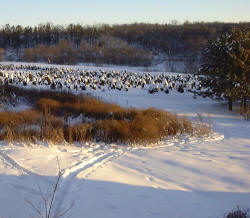 Though not completely free of glaciation, the region did escape the most recent cycles of glacial activity. This historical luck, combined with the predominantly limestone geology, has resulted in a rolling and even rugged landscape often referred to as "little Switzerland". Ridges commonly rise 300-500 feet above the valleys, and the Upper Iowa River is one of the most scenic in the midwest.
During historical times the area was home to many different Native American groups as they were pushed westward by European Americans. Originally surveyed by Nathaniel Boone (son of frontiersman Daniel Boone), the Upper Iowa area was opened to settlement in the 1848.
In 1853 a Yankee born in New York constructed an oak log cabin on what is now our farmstead, which is still a part of the farmhouse. We moved here in 1974, and started milking a small Jersey dairy herd and planting Christmas trees. We still work the trees, of course, and have a small herd of beef cows and a flock of sheep. In addition, we have a small apple orchard, a large garden, too many farm buildings, and not enough time. The entire farm, and especially the woods, prairie, and Christmas trees, are managed with an eye towards a healthy land community more than simply a productive farm.
Conservation means harmony between [people] and land. When land does well for its owner, and the owner does well by [the] land; when both end up better by reason of their partnership, we have conservation. When one or the other grows poorer, we do not. Aldo Leopold