Welcome to our Christmas tree page, and if you have purchased one of our trees before - THANK YOU - we hope it remained fresh and beautiful throughout the season. Please tell us your stories, at trees@oneotaslopes.org.
To learn more about our diverse, sustainably grown, chemical-free trees, follow the links on the left. Locate a store, or read below for how to cut or order one yourself. Call 563-382-0537 with questions.
On Farm Choose-and-Cut
is open
weekends
between Thanksgiving and Christmas, 10am to dark.
Weekend opportunities this year will include:
Shaking and netting your tree if desired, even help tying or loading

Possibly pre-cut (though very fresh) trees - good for learning the kinds we have and also for taking one home, if you're feeling a bit lazy

A fire in the sheltered potbelly stove to warm your hands, and free hot cider or chocolate most of the time
Cut-your-own Prices: $5/foot pines
$6/foot spruce and fir
To find us go to our map and directions page. To learn more about our diverse, sustainably grown, chemical-free trees, follow the links on the left. Feel free to email trees@oneotaslopes.org with questions.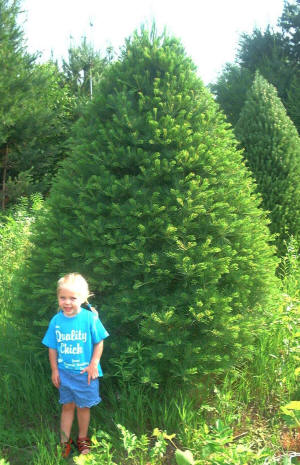 Yes, you can now Order a Tree, for home delivery (click).
Home delivery lets you order a certain height and species of tree, includes delivery to your door and even a set-up assistance, and is available for Decorah, Rochester, and locations in between for limited dates.
To order a tree for home delivery follow directions on our order a tree page.
What's so special about our trees?
Super Fresh and Aromatic - cut your own and you know it's fresh, or if you order we will cut the day prior to delivery, guaranteeing you a fresh and aromatic tree for the holiday season.
Specialty trees - from tabletops for the apartment up to 15 feet for your vaulted ceiling or church, all hand sheared for diversity of shape, fullness/openness, and character
Chemical free - no paint, pesticides, or other potential toxins or allergens applied to our trees, just a fresh tree in its birthday suit
Sustainably grown trees - good for soil, water, air and especially wild life of all kinds, even kids (see more at the OS difference and prairie trees)
Great diversity - Norway, White, and Blue Spruce, Scotch, Red, and White Pine, and Balsam and Fraser Fir - quite possibly the greatest home-grown diversity at any choose and cut farm in the Midwest (if you fine a farm with more, let us know!) For a few fotos and a bit of info on these types, go to our species page.